Analytics

Right information, at the right time, in the right form, to the right person, at the right place – is what good analytical insight is all about. A good analytical tool is a convergence of business domain and appropriate technology ....



Mobile Apps Development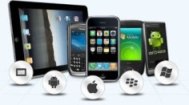 Mobile apps once again have shifted the power back into the hands of the consumer. Increasingly, businesses are defining mobile apps for the convenience of their customers giving them an easy access to information about the new products and developments.


Client Testimonial
Kawre Ice Creams
We have been using iMsight for managing our sales and distribution, and it has helped us to save about 30% time and our returns are down by 10%. It has helped us to streamline our production, thus reducing our wastages considerably.
Sarvavid 2013 © All Rights Reserved
*Terms and Policies Applied